Lovion WFS SERVER WFS Webservices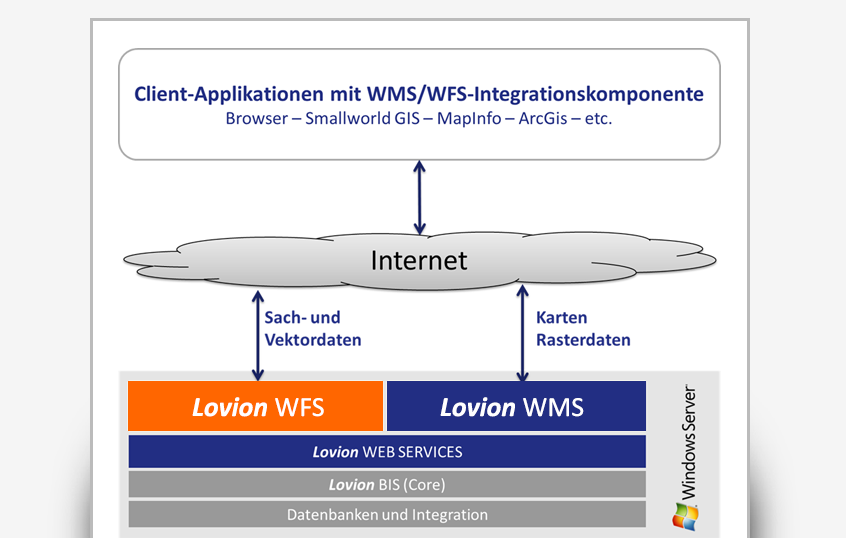 Supplying Data via OGC-conform WFS Web Services
Open Geospatial Consortium (OGC)
Geographic information systems are relevant for a number of company tasks. Due to the growing importance, the Open Geospatial Consortium (OGC) is responsible for standardising interfaces for location-based data since 1994. Lovion OGC SERVICES are based on a platform certified by the Open Geospatial Consortium to ensure the best possible interoperability using standardised interfaces. Open web-based standards (OpenGIS Web Services-OWS) form the backbone of the company's geodata infrastructure. Essential standards are Web Map Services (WMS) for providing maps as well as Web Feature Services (WFS) for accessing attribute data.
Web Feature Server (WFS)
Lovion Web Feature Services (WFS) provide access to data within the Lovion project via the intranet or internet. Lovion WFS only works with attribute and vector data and doesn't provide raster data such as WMS. Standard and spatial queries are possible. The results are delivered by Lovion WFS based on the GML (Geographic Mark-up Language) specification in the source system carrying out the enquiry.