Lovion ERP CONNECT integrating Business Data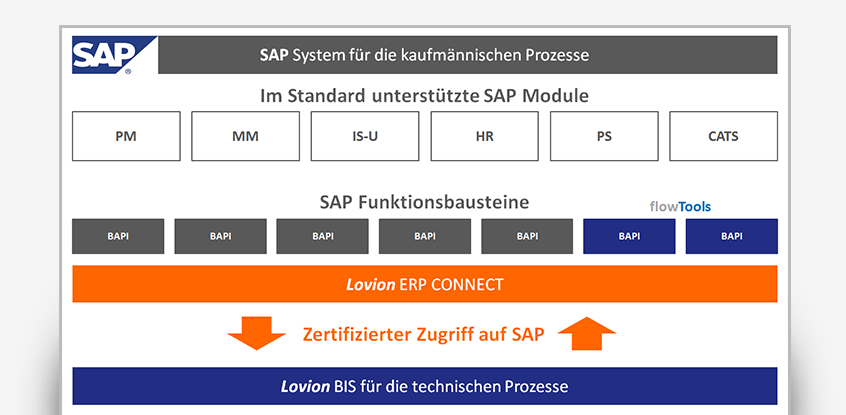 SAP Interface for the modules IS-U, PM, PS, MM, HR and CATS
Lovion ERP CONNECT is the technological link between Lovion and the ERP systems within the system architecture, predominantly SAP. The following schematic depiction offers a rough overview of the system's architecture and supported SAP modules.
Operating Method
Lovion ERP CONNECT can communicate with SAP functions on various levels. One option is to bundle individual transactions into one main request, for example, to retrieve all instances of a specific type of contract and procedure, technical places, equipment or notifications. A further method enables SAP contracts and notifications to be created individually when tasks are approved in Lovion.
Pull Method
The so-called pull method is used for planned measures. Lovion WORK retrieves planned maintenance contracts in SAP using different filtering criteria to further plan operations. The WORK preparation takes all relevant contract substructures into account as well as the contract itself. Contract data and the execution thereof is processed using the same structure in Lovion WORK and Lovion TASK. This can vary, depending on the process type or scenario. Relevant notifications and contracts are adopted via remote function calls using the following filter functions:
Date range
System status
Customer status
Notification type
Contract type
Push Method
The push method enables information from an SAP contract to be further edited in Lovion WORK. The information exchange is steered in SAP. This method is aimed to directly manage workflows not included in planned measures. Lovion ERP CONNECT allows relevant data to be saved intermediately in a special database structure in order to process tasks. These structures are used for online/offline references, for example for reference objects. In addition, SAP contracts and notifications can be created depending on Lovion tasks related to the contract. When the status of notifications and contracts changes, this information is directly transmitted to SAP workflow events. Furthermore, individual Lovion contracts (for example, repair tasks created in SAP or contract packages such as annual hydrant maintenance) can be referenced to a permanent SAP contract in Lovion.
Data Foundation
During the bidirectional data transfer between the two systems, the following data is taken into account:
Contract type
Responsible working station
Planning group
Processing deadlines
Work instructions
Defined Procedures
Notifications, if available